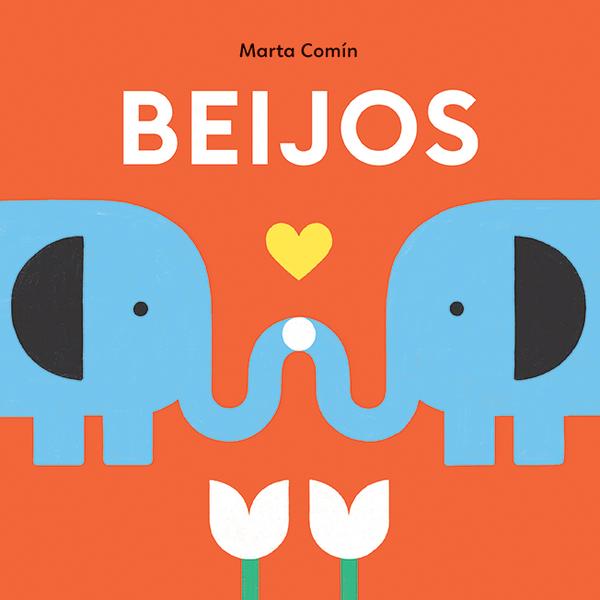 Beijos, Marta Comín
---
---
---
Livro infantil ilustrado, traduzido para português (Portugal) por João Berhan, texto e ilustrações de Marta Comín. Orfeu Negro, colecção Orfeu Mini, 2021, capa dura, 23 x 23 cm, 16 páginas cartonadas com mecanismos.
Neste livro, se queres dar um beijinho, move as peças e CHUAC!
Beijos escondidos, beijos salgados. Beijos sentidos e bem demorados. À esquimó ou como a avó. De bons dias e "já passou!" Todos gostamos de dar e de receber beijinhos. Os peixes, as abelhas, até as serpentes e os grandes elefantes trocam mimos assim.
E o melhor ainda está para vir: Upa, para a cama, chuac-chuac e dormir!
Uma divertida história em rima para os mais pequeninos aprenderem a mostrar as suas emoções.
Faixa etária: 0+
--
Children's picture book, translated into Portuguese (Portugal) by João Berhan, text and illustrations by Marta Comín. Orfeu Negro, Orfeu Mini collection, 2021, hardcover, 23 x 23 cm, 16 pages. Flap board book.
If you want to send a kiss, move the flaps and CHUAC!
Hiden kisses, salty kisses. Heartfelt and long kisses. Eskimo kisses or Granny kisses. Good morning kisses and "there, there" kisses. We all love to give and receive kisses. The fish, the bees, even the snakes and the elephants exchange them.
And the best is yet to come: good night kisses! Sleep tight!
Age group: 0+
---
Share this Product
---
---