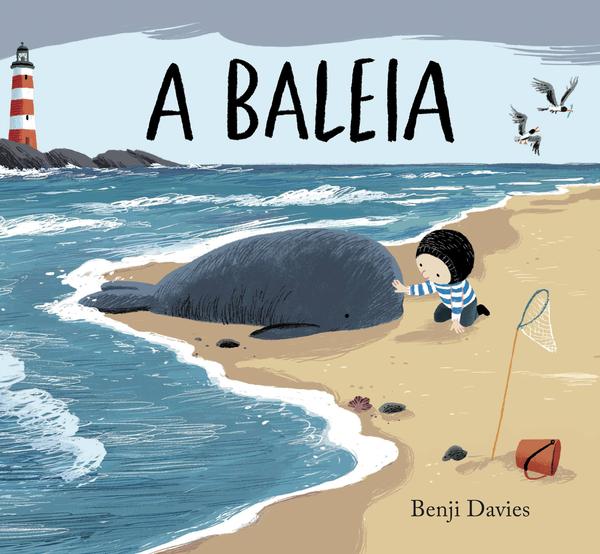 A Baleia, de Benji Davies
---
---
---
Livro infantil ilustrado, traduzido para português (Portugal) por Rui Lopes, com texto e ilustrações de Benji Davies. Orfeu Negro, 3ª edição, 2016, capa dura, 28.5 x 25 cm, 32 páginas.
O Noé vivia com o pai à beirinha do mar. Certo dia, encontrou uma baleia encalhada na areia…
Ao acordar depois de uma noite de grande tempestade, o Noé avistou qualquer coisa ao longe: uma pequena baleia tinha dado à costa. O Noé sabia que não era bom para uma baleia estar fora de água e decidiu levá-la para casa, fazer-lhe companhia, contar-lhe histórias e até tocar-lhe umas musiquinhas… Será que o pai do Noé vai gostar da nova inquilina?
PRÉMIO OSCAR'S BOOK 2014
Faixa etária: 3+
--
Children's picture book, translated into Portuguese (Portugal) by Rui Lopes. Text and illustrations by Benji Davies. Orfeu Negro, 3rd edition, 2016, hardcover, 28.5 x 25 cm, 32 pages.
Noé lived by the sea with his father. One day, he found a whale stuck in the sand...
After a stormy night, Noé woke up and noticed something in the distance: a little whale had been washed ashore on the beach. Noé didn't know that it wasn't a good thing for a whale to be out of the water, so he decided to take it home, keep it company, tell it some stories and even play some music... What will Noé's father think of it?
OSCAR'S BOOK AWARD 2014
Age group: 3+
---
Share this Product
---
---