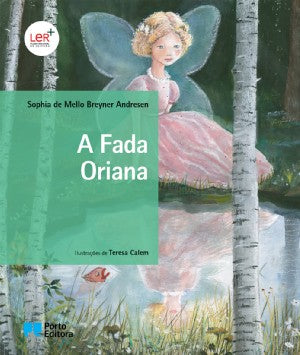 A Fada Oriana, Sophia de Mello Breyner & Teresa Calem
---
---
---
Livro infanto-juvenil, escrito em português (Portugal), texto de Sophia de Mello Breyner Andresen e ilustrações de Teresa Calem. Porto Editora, 2012, capa mole, 19 x 22.5 cm, 96 páginas.
Dizia Sophia que as fadas são seres da natureza. Queria com isto lembrar que elas nascem da nossa capacidade de atribuir vida, vontade e intenções ao mundo da natureza. Em A Fada Oriana, encontramos o dom da proteção sobre os seres mais frágeis que vivem numa floresta, encontramos as tão humanas oscilações entre a solidariedade, o sentido da responsabilidade, o egoísmo e a vaidade. Encontramos, como é próprio de muitos contos tradicionais e para a infância, as peripécias de uma luta entre o bem e o mal.
Faixa etária: 8+
--
A book for children and young people, written in Portuguese (Portugal), by Sophia de Mello Breyner Andresen (text) and Teresa Calem (illustrations). Porto Editora, 2012, softcover, 19 x 22.5 cm, 96 pages.
Sophia used to say that fairies were nature beings. With this, she wanted to remind us that they come from our capacity to give life, will, and intention to nature's world. In this book, we meet the gift of protection for the most fragile beings that live in the woods, we meet such human hesitations between solidarity, responsibility, selfishness, and vanity. We meet, as usual in traditional children's stories, the struggles between good and evil. 
Age group: 8+
---
Share this Product
---
---