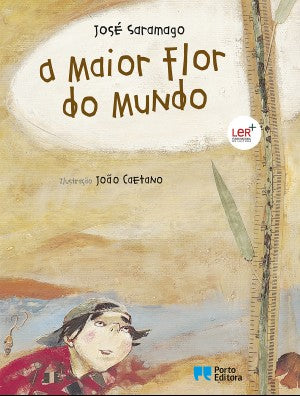 A Maior Flor do Mundo, José Saramago & João Caetano
---
---
---
Livro infantil ilustrado, escrito em português (Portugal), com texto de José Saramago e ilustrações de João Caetano. Porto Editora, 2014, capa dura, 22 x 29 cm, 32 páginas.
Plano Nacional de Leitura
Livro recomendado para o 4º ano de escolaridade, destinado a leitura orientada.

E se as histórias para crianças passassem a ser de leitura obrigatória para os adultos? Seriam eles capazes de aprender realmente o que há tanto tempo têm andado a ensinar?
Faixa etária: 8+
--
Children's picture book, written in Portuguese (Portugal), by José Saramago (text) and João Caetano (illustrations). Porto Editora, 2014, hardcover, 22 x 29 cm, 32 pages.
What if children's stories were to be made compulsory reading for adults? Would they be capable of really learning what they have been teaching for so long?
Age group: 8+
---
Share this Product
---
---