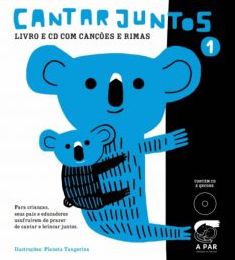 Cantar Juntos 1
---
---
---
Livro infantil de canções e rimas, com CD, em português (Portugal), A PAR (2016) 3ª edição, capa dura, 21 x 22cm, 78 páginas.
Este livro inclui um conjunto de 27 canções (tradicionais infantis e canções de autor) e 20 rimas tradicionais portuguesas. Todas elas foram seleccionadas e/ou criadas para serem cantadas a bebés desde o seu nascimento até aos 3 anos de idade. O livro está organizado em sete capítulos e cada um deles apresenta uma nota introdutória com algumas sugestões que podem ajudar a criar contextos de brincadeira lúdica.
Ilustrações de Madalena Matoso, Planeta Tangerina.
Idade recomendada: 0+
--
Children's songs and rhymes picture book, with CD, written in Portuguese (Portugal), A PAR (2016), hardcover, 21 x 22 cm, 78 pages.
This book contains lyrics of 27 songs (traditional children's songs and author's songs) and 20 traditional Portuguese rhymes. They were collected and/or created to be sung to infants from birth up to 3/5 years old. The book contains seven chapters, each one with an introductory note with some suggestions that will help to create playfully settings.
Illustrations by Madalena Matoso, Planeta Tangerina.
Age group: 0+
---
Share this Product
---
---